Quectel and Qualcomm dominated the cellular IoT module and chipset markets.
NB-IoT is still very popular among technologies but is expected to decrease market share to 4G CAT1.bis in 2023.
5G adoption will boost in 2024 if ASP declines to sub-$100 and 5G RedCap-based solutions become available.
China continues to lead IoT module market, China is followed by North America and Western Europe.
Hong Kong, San Diego, Buenos Aires, Beijing, New Delhi, London,  Seoul – March 29, 2023
Global cellular IoT module shipments registered record high annual volume with growth of 14% YoY in 2022, according to Counterpoint's latest Global Cellular IoT Module and Chipset Tracker by Application report. The resumption of smart meter implementation, intelligent asset tracking ongoing retail POS upgrades and the continued growth in connected cars due to progress in electrification and autonomous capabilities were some of the key drivers for the double-digit percentage growth in demand for IoT modules.
China is leading the global cellular IoT module market in terms of demand, followed by North America and Western Europe. Meanwhile, India was the fastest growing market which is followed by Latin America and North America.  India has a smaller base, but it has immense potential. Eastern Europe was the only region that registered a decline because of the prolonged Ukraine-Russia war.
Soumen Mandal, Senior Research Analyst, commenting on the competitive dynamics among cellular IoT module OEMs  said: "In 2022, Quectel was the top cellular IoT module player in China, the world's largest market for these components. Meanwhile, China Mobile and Fibocom captured second and third place, respectively, enjoying their tremendous scale in the domestic market. Outside of China, Quectel remained the leader followed by Telit and Thales which have merged and will commence operations as a new brand, Telit Cinterion, starting Q1 2023.
Quectel has increased its focus in the consolidating automotive (NAD module) segment in 2022. Result of that is securing multiple design wins with major automakers. The competition in the NAD module market is increasing due to the industry transitions to 5G connectivity. With every transition of cellular technology the market consolidate as it becomes increasingly challenging to serve the automotive segment, which requires heavy customization but garners a lower margin.
China Mobile is the world's largest CSP and IoT connectivity player. It is becoming more vertically integrated by leveraging its massive scale in order to capture maximum value. It has the potential to break into the top three global cellular IoT module rankings this year.
The company primarily operates in China and will need to expand into other verticals and markets via a robust partnership model to maintain its momentum."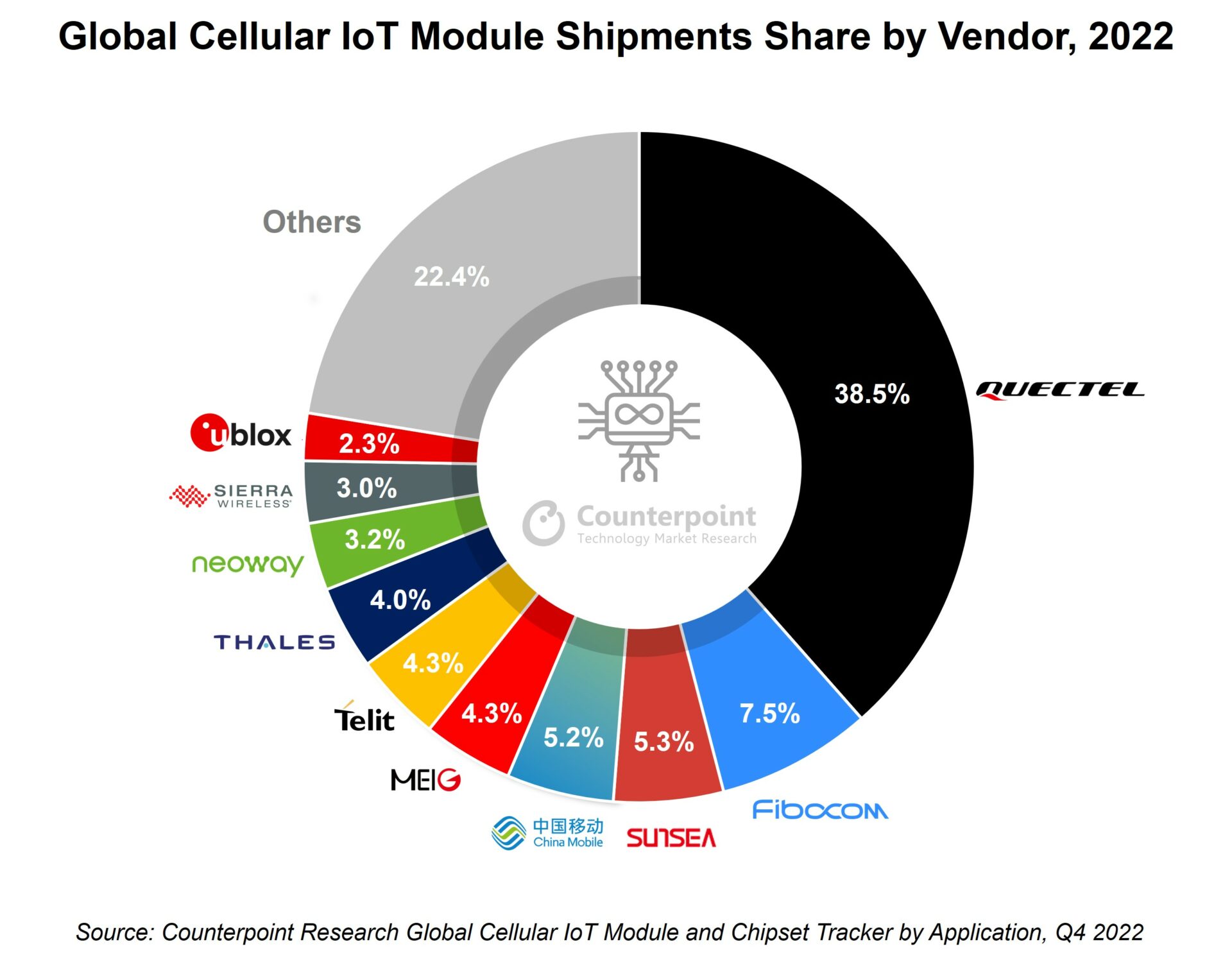 Commenting on the IoT cellular connectivity chipset player dynamics, Associate Director Ethan Qi said, "Qualcomm continued to dominate the cellular IoT chipset market in 2022 with nearly 40% shipments share. Qualcomm strengthened its position in the LTE CAT 4 and higher technologies while also maintaining a dominant position in the 5G market. Qualcomm recently launched its latest 4G CAT1.bis chipset, QCX216, to compete head-on with the LTE CAT1.bis leaders UNISOC and Eigencomm.
Qi added, "In 2022, UNISOC and ASR maintained their second and third positions due to strong adoption of the fast-growing LTE CAT1.bis and CAT 1 based modules, respectively. During the year, two new players from China, Eigencomm and Xinyi Semiconductor, broke into the top five cellular IoT chipset vendor rankings, filling the gap left by Hisilicon. Eigencomm focuses on NB-IoT and 4G CAT1.bis applications while Xinyi Semiconductor focuses on NB-IoT chipsets, both being low-cost but high-volume segments."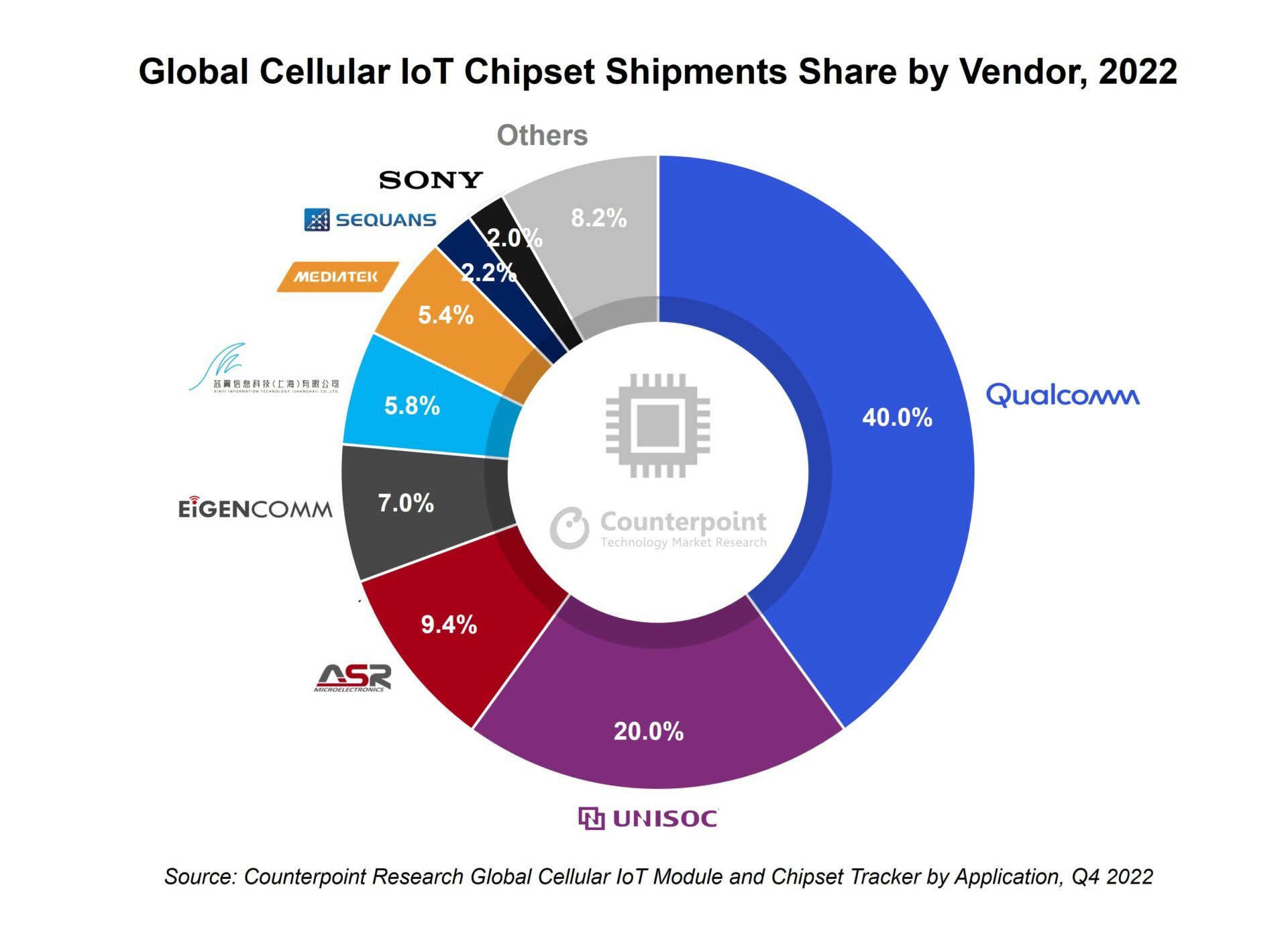 Commenting on the technology landscape, Mandal added, "During 2022, NB-IoT remained the most popular LPWA IoT connectivity technology followed by the fast-growing 4G CAT 1 and 4G CAT 4 modules. Together, these contributed to 60% of the total IoT module market. For most of 2022, China was under lockdown due to the resurgence of COVID-19 which drove greater demand for products such as smart door locks, digital thermometers and wearables, mostly powered by NB-IoT.
NB-IoT saw strong adoption in China but has been less popular outside the country. In contrast, 4G CAT.1bis has been gaining traction globally and has the potential to be an alternative to several NB-IoT and existing 2G/3G applications such as smart meters. However, 5G saw slower adoption in IoT than in smartphones last year due to the higher module costs. The key initial 5G applications are PCs, CPEs and some industrial/enterprise applications.
We believe 5G will enter the mainstream market once the module ASP breaks the sub-$100 barrier and receives a further boost from the 5G RedCap commercialization in coming years."
Commenting on the IoT market outlook for 2023, Associate Director Mohit Agrawal said, "Global cellular IoT module shipments (including NAD modules) are expected to register robust growth of 19% YoY in 2023. The growth of IoT module shipments in the high-value industrial segment will be key for the IoT projects that have struggled to move beyond the pilot stage and for companies that are focusing more on ROI in a tough macroeconomic environment. Nevertheless, shipments of IoT modules for the smart meter, point of sale (POS) and the automotive markets are expected to continue seeing strong growth, which will offset a slowdown in other segments."
The market has been undergoing consolidation across the IoT value chain from module players and connectivity management to IoT platform players. This has highlighted the importance of scale, choosing the right vertical and capturing value by striking the right partnerships or developing the right capabilities. We could see some more exits and mergers in 2023 because IoT, which is very vertical driven, has been seeing volatile growth due to internal or external factors."
For detailed research, refer to the following reports available for subscribing clients and individuals:
Counterpoint tracks 1,500+ IoT module SKUs on a quarterly basis and provides forecasts on shipments, revenues and ASP performances for 80+ IoT module vendors, 12+ chipset players and 18+ IoT applications across 10 major geographies.
Background
Counterpoint Technology Market Research is a global research firm specializing in products in the technology, media and telecom (TMT) industry. It services major technology and financial firms with a mix of monthly reports, customized projects and detailed analyses of the mobile and technology markets. Its key analysts are seasoned experts in the high-tech industry.